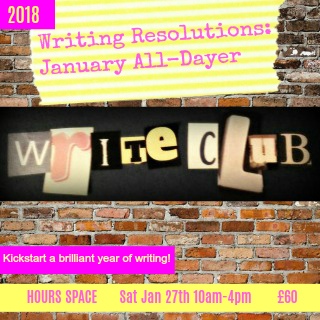 Get ready for the year ahead with this full day of goal setting, planning and kickstarting your brilliant writing projects.
Come along to find inspiration, like-minded pals to keep you on task and plenty of hints and tips to help you realise your writing goals. Make 2018 the year your writing takes off!
"I went to the January Write Club all day session in 2017 planning to come away with plans for small blog pieces and a magazine column or two. Instead, I formed an idea for a novel, which is almost ready to send to agents. Write Club is a great space to meet writers, hear inspiring work and show off about your own efforts. Don't miss out!" JS
£60 investment. Booking essential – here
This session is Sold out, but get in touch with Write Club to be on the waiting list or sign up for the summer date.