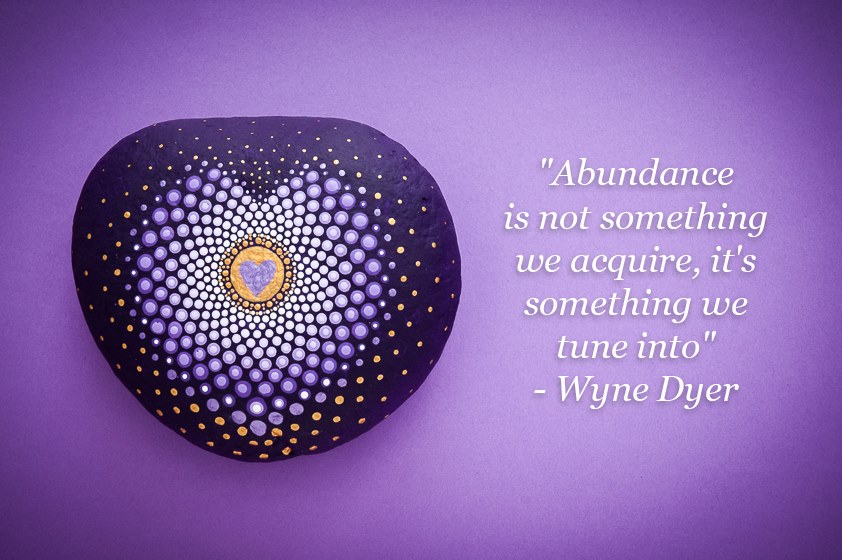 Anchor your sense of natural abundance and become magnetic to more with the creation of your Abundance Mandala.
Abundance is our birthright and natural state of being, however, this isn't always apparent in our lives when we struggle with experiences of lack, whether that be finances or other circumstances where we'd like to feel more abundant.
But the truth is we are abundant, and we are the source of our abundance just like Wayne Dyer alludes to in the quote above. The key is tuning into it, into that sense of enoughness that we already are and then living from that place.
During this one day workshop I will guide you in a meditation to tune you into and anchor that sense of abundance within yourself. From this energy you will create your own Abundance Mandala on stone or small canvas; I will take you through this step by step.
This is an enjoyable, meditative process; the several hours that you spend in creation mode are hours that you are steeped in your own abundance, sending a clear message out to the Universe that you are open to receiving more. The mandala you take away with you can then be used daily to tune into that energy, keeping you aligned with the abundance life is always trying to bring you.
Places are limited to 6 for lots of individual attention, booking is essential, see below
You do not need any painting experience and all tools and materials will be supplied; all that's required is that you show up ready to play with a curious heart! Places are limited so booking is essential – see details below.
Here's what previous participants have said about the Mandala Workshops:
"I highly recommend Natasha's workshop. I'm not an artist so what I produced totally exceeded my expectations. I was still on a high the next morning! To come away with something I had made was really special." Tasha H, Bristol.
"I've been raving about the day to my friends and colleagues – I left feeling like I'd spent a beautiful day with some wonderful people, had learnt a new skill and discovered a side of my creativity which I could take away with me and explore on my own. Plus I had a beautiful mandala stone to remind me of the experience." Berni, Bristol.
Natasha Alexander is a Heart IQ Mastery Coach and Facilitator and mainly self-taught artist who aims to inspire, uplift and heal through her art. Creativity played a vital part in her healing from breast cancer and she feels how important it is for people's health and joy to nourish their creative spirit.
Healthy snacks and hot drinks provided.
There will be a break for lunch and you may eat on site (plates and cutlery available).
Parking is local on-street parking or nearby car parks.
Limited to 6 places.Booking essential to avoid disappointment.
PRIVATE MESSAGE ME OR EMAIL ME ON HEARTANDSOUL@NATASHAALEXANDER.COM TO BOOK