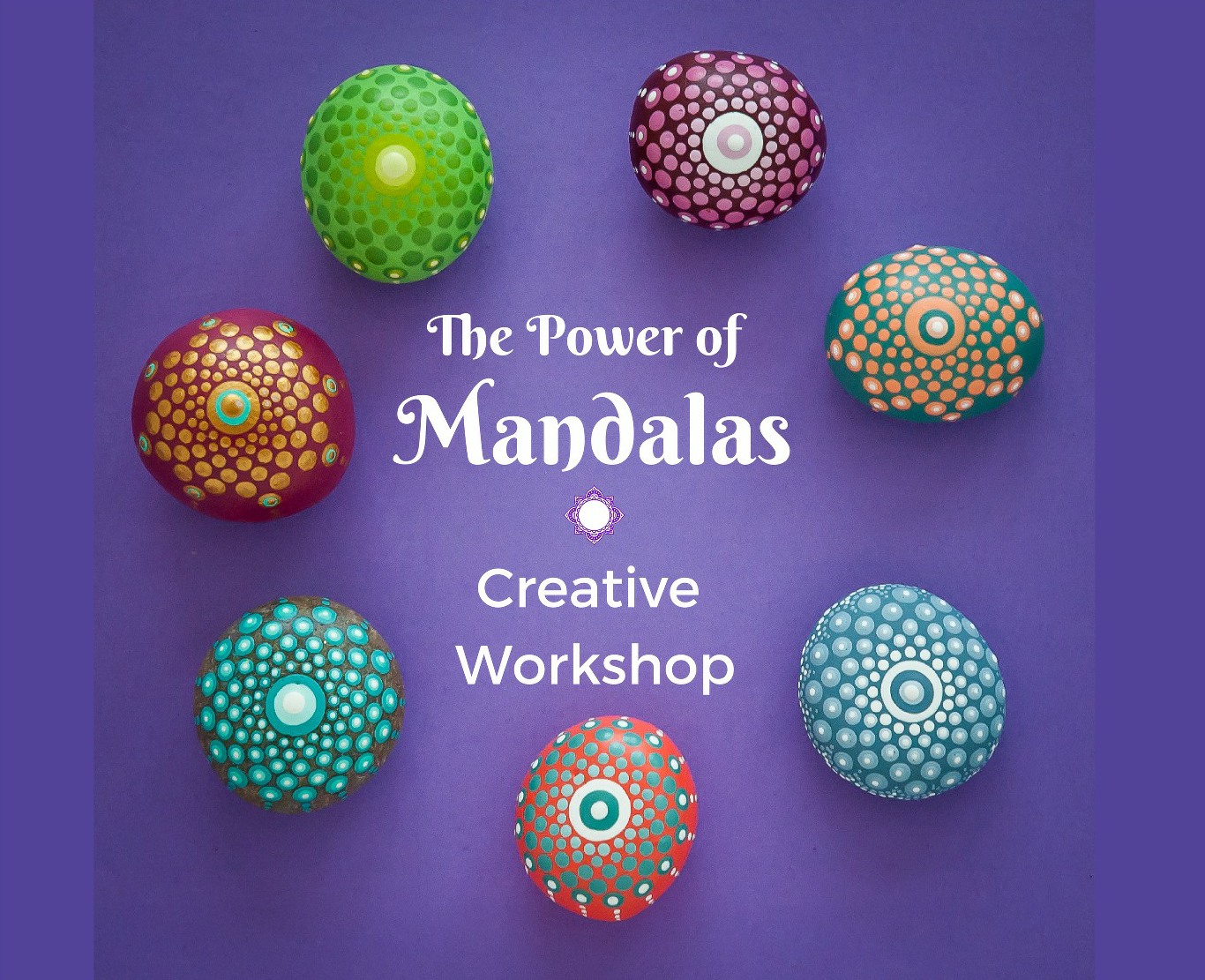 Discover the creative power of your being through learning the art of mandala-making – a day of creativity, relaxation and fun.
GIFT VOUCHERS available.
During this one-day workshop I guide you step-by-step through the process of creating a beautiful dot-mandala on your choice of stone or canvas.
I lead you in a guided meditation to help you tune into your creative genius (everyone has one!!) and reveal your desired intention for your creation.
Engaging in the creative process with intention sparks the power within you to make things happen! Your Mandala then becomes the anchor to theenergy you need to cultivate to manifest your intention in your life.
Creativity arises from the purest source within us, our essential beingness; when we give ourselves over to the creative process, we give ourselves over to 'being' whilst doing, a peaceful state in which we let go into our true selves.
This is for you if you want a nourishing day to
* explore your creativity (or a different aspect of it);
* have time and space just for you;
* learn a new skill;
* relax and have fun – peacefully!
"Everything about this workshop is perfect and I had so much fun doing something so simple yet so intricate and beautiful. I feel that I have been reminded of something I love but had forgotten about. Thank you Natasha." Jane W., Birmingham
You can continue to practice this skill easily in your own time fostering relaxation and allowing the stresses of everyday life to melt away.
Many people continue on their own after the workshop and report back how much they love their newfound creativity and the joy that the process brings.
"I really loved Natasha's mandala workshop. She held the space beautifully and it was so relaxing to paint wonderful patterns. It took me to a deeply spiritual place. Following on from the workshop I painted many more pebbles and gave them to people as presents. I highly recommend this workshop for anyone who wants to get in touch with their creativity!" Julia C., Bristol.
This is as much about discovering your innate creative nature as it is about practical use of tools and paint.
Creating mandalas is a meditation in action and your mandala will carry the power and magic of your intention into your day-to-day reality as you continue to work with it's energies. All will be explained!
Are you ready for the mystery and magic of mandalas?!
You do not need any painting experience and all tools and materials will be supplied; all that's required is that you show up ready to play!
My own mandala practice has yielded big magic and joy in my own life resulting in my dream of making a living as an artist and being offered a book deal by a publishing company!
Continually engaging our creative energy balances and relaxes us, allowing hidden dreams to surface and feel possible.
Here's what a participant said about the last workshop:
"I highly recommend Natasha's workshop. I'm not an artist so what I produced totally exceeded my expectations. I was still on a high the next morning! To come away with something I had made was really special." Tasha H, Bristol.
Arrive 10.45 for 11 am start – please be on time.
Only 8 places available – book early to secure your place.