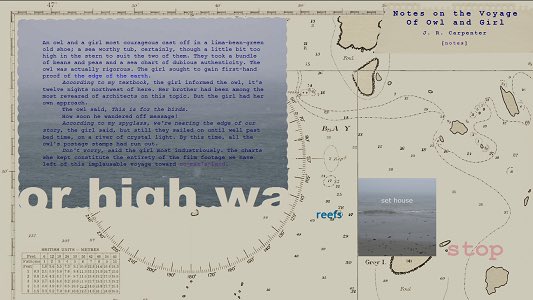 Bristol's experimental poetry and performance series returns with readings from J.R. Carpenter, Frances Presley and Laura Elliott. An evening of poetry, collaborative performance and digital literature from four leading voices in contemporary innovative poetry.
Books and prints on sale / all welcome.  (Image: J.R. Carpenter)
J.R. CARPENTER
J. R. Carpenter is a Canadian-born UK-based artist, writer, performer, researcher, and maker of maps, zines, books, poetry, short fiction, long fiction, non-fiction, and non-linear, intertextual, hypermedia, and computer-generated narratives. Her pioneering works of digital literature have been exhibited, published, performed, and presented in journals, galleries, museums, and festivals around the world. She is a winner of the CBC Quebec Writing Competition (2003 & 2005), the QWF Carte Blanche Quebec Award (2008), the Expozine Alternative Press Award for Best English Book (2008), the Dot Award for Digital Literature (2015), and the New Media Writing Prize (2016). http://luckysoap.com 
FRANCES PRESLEY 
Frances Presley was born in Derbyshire, grew up in Lincolnshire and Somerset, and lives in north London. She collaborated with artist Irma Irsara in a multi-media project about clothing and the fashion trade, Automatic Cross Stitch (Other Press, 2000); and with poet Elizabeth James in an email text and performance, Neither the One nor the Other (Form Books, 1999). The title sequence of Paravane: new and selected poems, 1996-2003 (Salt, 2004) was a response to 9/11/2001, and the IRA bombsites in London. Myne: new and selected poems and prose, 1976-2005, (Shearsman, 2006) takes its title from the old name for Minehead in Somerset. Lines of Sight, (Shearsman, 2009), includes an approach to the Neolithic stone sites on Exmoor, part of a multi-media collaboration with Tilla Brading, published in 2010 as Stone Settings (Odyssey Books & Other Press). Presley's work is included in the recent anthologies Infinite Difference: Other Poetries by UK Women Poets (edited Carrie Etter, Shearsman, 2010), and A Ground Aslant — Radical Landscape Poetry (edited Harriet Tarlo, Shearsman, 2011). https://www.francespresley.co.uk
LAURA ELLIOTT
Laura Elliott is a poet and library worker in London. Her first collection, 'lemon, egg, bread' was published by Test Centre in 2017, and she co-edits the poetry publishing experiment para·text with Angus Sinclair.
"'lemon, egg, bread' is a striking first collection; a series of poems which read as an attempt to speed-write the still-life image. Drawn out of a process of meditation on and intervention within various still-life compositions, including works by Laura Letinsky, the collection explores practices of re-articulation by way of the feminist gaze and the gut." – Test Centre
https://testcentre.org.uk/product/lemon-egg-bread/