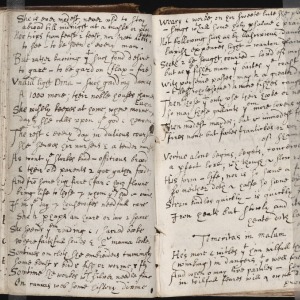 Come explore a rich variety of sonnets and near-sonnets.
Though it is a form dating back to the 13th century, the sonnet is clearly in very good health, with fine examples being written by a wide range of contemporary poets. This course will explore a rich variety of sonnets and near-sonnets written in recent years as well as looking back to the earlier sonnets which have informed them. Students will have the chance to examine the strengths and manifestations of sonnet form and the possibilities they present to the poet. We shall locate ways in which the sonnet can be used to arrange idea, argument or emotion, or to structure narrative or recollection. We shall consider the possibilities and implications of different rhyme schemes and metres, and indeed those of unrhymed sonnets and sonnets in free verse. We shall also consider ways in which the sonnet may be updated, subverted or reinvented. Students will be encouraged to reflect on the examples discussed and to write their own sonnets in response.  Poets studied may include: William Shakespeare, Elizabeth Bishop, Alice Oswald, Seamus Heaney, Anne Carson, Geoffrey Hill, and Don Paterson.
5 fortnightly sessions on Mondays, 7 – 9pm, starting 28 Jan.
More information about how all our face-to-face courses work can be found on the Face-to-Face courses page.

William Wootten's poems have appeared in magazines including Poetry Review, PN Review, the Spectator and the Times Literary Supplement; he has written on modern poetry for publications including the Guardian, the London Review of Books, the New Statesman and the TLS, and he is the author of the poetry collection You Have a Visitor and the critical study The Alvarez Generation: Thom Gunn, Geoffrey Hill, Ted Hughes, Sylvia Plath and Peter Porter.  He is Lecturer in Poetry and Creative Writing at the University of Bristol.