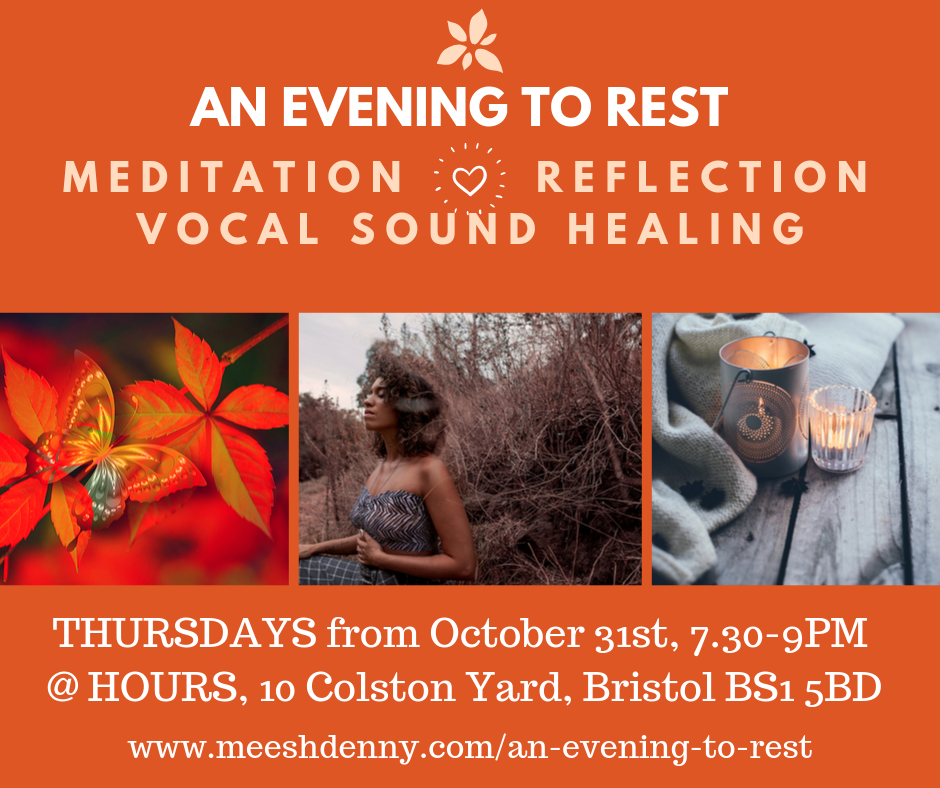 These nourishing, cosy and restful evenings will include:
A guided meditation journey. Focused, gentle inner enquiry. Vocal sound medicine.
What if the act of intentional rest, allowed you more clarity, focus and freedom?
We live in a world that calls us to constantly meet our edges.
ACHIEVE more.
GIVE more.
BE more.
What if part of the action we chose to take, was about SOFTENING into those edges?
And what if through softening, you actually gained more EASE, FOCUS and CLARITY?
What is SLOWING DOWN your nervous system was far more potent right now than any task being ticked off your long to do list?
INTENTIONAL REST IS ONE OF THE BEST ACTIONS YOU CAN CHOOSE TAKE
Being held in a process that literally allows the nervous system to stop acting from a STRESS RESPONSE, is the most effective way you can:
A.) Feel more ENERGISED to do the things you need to do.
B.) Feel more CLARITY around why and how you're doing those things.
What if choosing to self care in this way, was as much of a priority as choosing to nourish yourself with good food?
What if each time you chose to action some time for YOU, instead of giving more, working harder, doing MORE, you actually made MORE MONEY, had MORE EASE in your relationships, felt more on PURPOSE and KNEW your reason for being here?
The answers to these questions are easy.
All you have to do is CHOOSE to say YES to what you already know is true.
These nourishing, cosy and restful evenings will include:
A guided meditation journey
To bring your mind into a more peaceful place, through slowing you down and relaxing the body.
Focused, gentle inner enquiry through guided journal tasks, that evolves through a theme each week
Allowing confusions to move into clarity. Unanswered questions to be answered. And your inner knowing to be brought more powerfully into focus. Leaving you with no doubt about the next step forwards.
Vocal sound medicine
A luscious soundscape of powerful and emotive vocal looping, to vibrate the body and allow release, surrender and an even deeper softening of the body and mind so the changes can embed more deeply.
PLEASE PAY VIA PAYPAL, WITH YOUR DESIRED CHOICE IN THE MESSAGE BOX
paypal.me/Michelle205
For more info go here:
www.meeshdenny.com/an-evening-to-rest