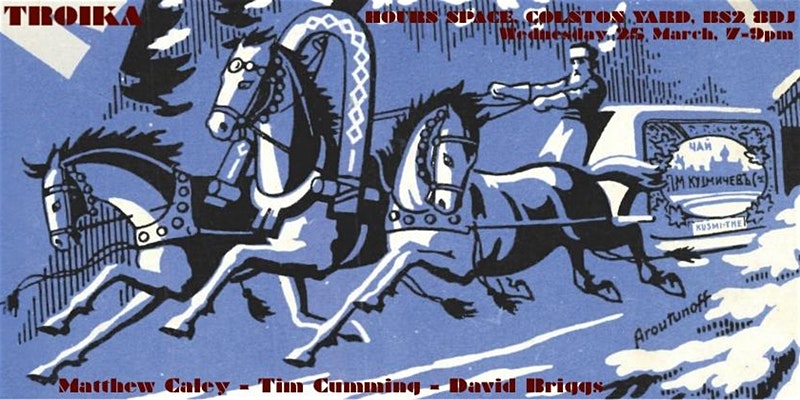 As part of the Bristol Poetry Festival, LYRA 2020, Matthew Caley, Tim Cumming and David Briggs will read from their new collections.
Since his debut – Thirst [Slow Dancer, 1999] – was nominated for The Forward Prize for Best First Collection, MATTHEW CALEY has published four more collections, latterly with Bloodaxe, taught for The Poetry School and The School of English at St Andrews University, and read everywhere from Novi Sad, Serbia to The Globe Theatre, London; from Galway to The Gypsy Hill Tavern, from Prague's Alchemy to Wayne Holloway-Smith's living room. His sixth collection is Trawlerman's Turquoise [Bloodaxe, 2019].
Since his debut in 1991 — The Miniature Estate — TIM CUMMING has published eight full collections, including his new book, Knuckle [Pitt Street Poetry, 2019], a Guardian pick of the year. His work has appeared in numerous anthologies, including The Forward's Poems of the Decade, the WS Graham anthology, The Caught Habits of Language, and the 2010 Bloodaxe anthology of poetry from Ireland and the British Isles, Identity Parade. He made the BBC4 documentary Hawkwind: Do Not Panic in 2007, and has shown his film poems at cinemas and festivals worldwide. He writes regularly about music and the arts for the British and international press, and his paintings have been exhibited at Slader's Yard in Dorset and the Rowley Gallery in west London.
Since receiving an Eric Gregory Award in 2002, DAVID BRIGGS has published three collections with Salt Publishing. The Method Men [2010] was shortlisted for the London Festival Poetry Prize, and Rain Rider [2013] was a winter selection of the Poetry Book Society. His third book — Cracked Skull Cinema [2019], a Poetry Wales pick of the year — has taken him on a reading tour ranging from a Festival of Death and Dying in Somerset to the Suffolk coast for Poetry in Aldeburgh, where he also performed song versions of poems from his new collection. His work has appeared in journals and anthologies from The Poetry Review to Identity Parade, and as a recording musician he released an album of original songs in the early 2000s.
Free glass of wine or beer with each ticket for the troika.
More about the Lyra Poetry Festival.