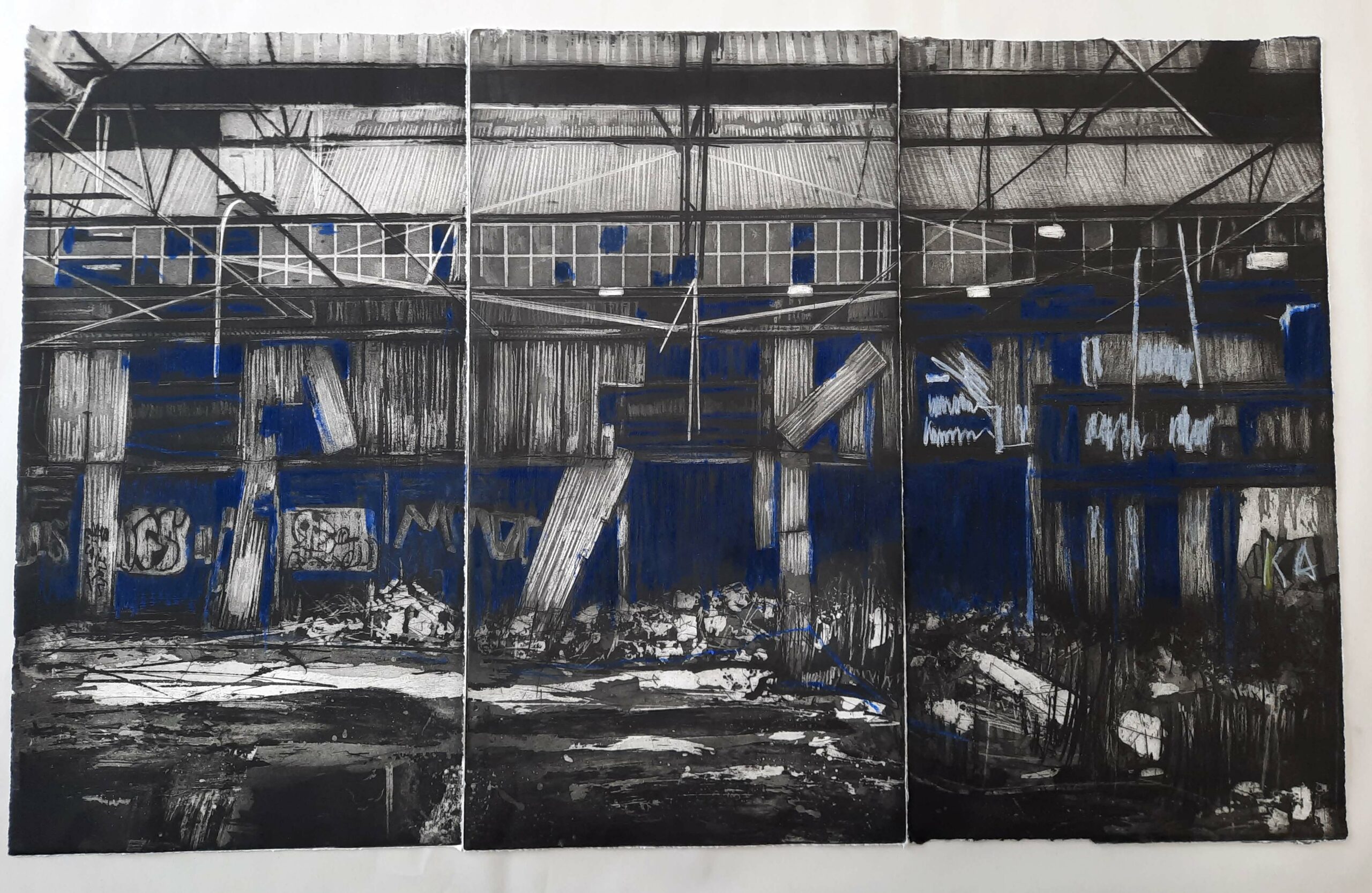 Prints by Jemma Gunning
Jemma's work is an investigation and portal into our fading heritage. She comes to find herself drawn to structures that have been left to fall deeper into decaying states of disrepair. With every site she discovers, a sense of nostalgia washes over her. Questions arise around the lost and forgotten, sparking narratives about our history, society and the industry that once occupied the building.
Her research extends beyond the remnants of architectural forms to landscapes that have been exploited over the years by humanity. These landscapes often contain traces and clues of our history, bearing the scars of our industrial past.
Drawing underpins her practice and informs her printmaking processes. Specialising in etching and lithography, these methods resonate with the subjects she records. They use an enforced decay, whereby acids erode metal and physically alter the surface of a limestone, echoing with the natural decay of the landscapes that surround us.
Her prints are a form of documentation that records our fragile environments, helping to keep stories and memories alive. They invite us to slow down and consider subjects that many of us would walk past and ignore.
Jemma recently completed a printmaking fellowship at the City and Guilds of London Art School. She was awarded funding by the Queen Elizabeth Scholarship Trust to carry out her training which enabled her to fully understand the complexities of intaglio printmaking. In 2019 and 2020 Jemma was awarded an Elizabeth Greenshield Grant to help establish her own printmaking studio and carry on her exploration of our fading heritage. She predominantly makes all her work at her studio which is based at Estate of the Arts in South Bristol. Alongside her practice she works part time as a lithographic technical instructor at UWE and co-runs Bristol Print Collective. She is a member of the Royal Society of Painter Printmaker and Heritage Craft Association.
For more information head to –
@jemma_gunning_printmaker
Contact–
Estate of the Arts
South Liberty Lane
Bedminster
Bristol
BS3 2SG